Greetings!
Thank you for  including me on your design journey!    I am so glad to be with you and share with you what I know about making DIY designer inspired rooms!  In the blog articles I talk about the synthesis of style and color, my curated picks of the week, Influencers of the past and present.  I will have more in the weeks to come. So come back often.
But first,  a little bit about me:
Native New York-er, I graduated with a Bachelor Of Fine Arts in Design from the Massachusetts College of Art & Design in Boston, then pursued a career in Advertising and Design in Boston and NYC and later Marketing and Brand Identity in NYC and Cincinnati with Colgate-Palmolive and P&G before entering into the field of high fashion residential design.  Ten years ago I started my own successful interior design business, Dina Burke Interior Design, L.L.C. and have been published in magazines and newspapers and have designed hundreds of rooms, kitchens and baths for happy customers.
Today, I  continue my design business on-line and bring my vast experience and talent of old school residential interior design and Marketing.  I speak to to the DIY person who wants to have a space to live in that reflects her own style, is affordable and tasteful, and wants to feel it has a custom, 'designer inspired' look with the satisfaction of DIY experience, and wants it to fit in her time crunched life.
Why do I do this?
I feel passionately about everyday design and feel that there needed to be a way to level the playing field and streamline and de-mystify the design-process.  Everyone wants to not be overwhelmed with how to go about making sure in the end it will all "look right" or "fit" or "go with".   I have ideas on that I will share with design lovers like you in my newsletter!
I appreciate your support and look forward to sharing with you my weekly discoveries of fun ideas so you can create your own DIY beautiful spaces!  If that sounds good to you, then just stay tuned for more on my blog, tips, and of course freebies and fun things too!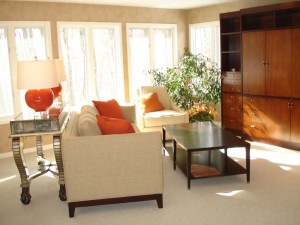 Please visit me for up to the minute news and tips at these places:
Stay tuned,
Dina